Well, it's that time of year--when I can look back on the year's accomplishments and set goals for the future.
The title of this post is a bit misleading, because familytherapybasics.com (FTB) has only been in existence for four months. So . . . it should be "four months in review." Nevertheless, the past four months have been exciting, surprising, and encouraging, thanks to you!
Today, I want to highlight the most popular resources from the FTB site, so that you can easily find something you may have missed. The purpose of this post is to organize what readers believe are the best resources from the past four months, so that you can access them easily and quickly.
Most Popular Blog Posts
The following 5 blog posts have been the most visited on the FTB site:
7 Questions for Opening Your Therapy Sessions
5 Steps for De-escalating an In-Session Argument
Solution-Focused Brief Therapy Client Types, and Their Relevance to Every Session
5 Quick and Easy Ways to Build Your Therapy Skills
Family of Origin Exploration for the Therapist: How to Create Your Genogram
Most Popular Free Tools
The Build Your Skills Bundle and The Find Your Niche List were created to help you save time and love your work. They have been the two most downloaded resources on the FTB site, and they can be found on the Welcome Page (just below the fold).
Most Popular Services
News + Notes is an in-depth weekly e-letter covering professional and personal development tips. as well as reflections. The newsletter features exclusive content not found on the FTB blog (here's a sample issue). Subscribe to News + Notes here.
The free resource library for therapists and mental health professionals includes templates, checklists, guides, cheat sheets, and other useful resources for therapists. Take a look inside: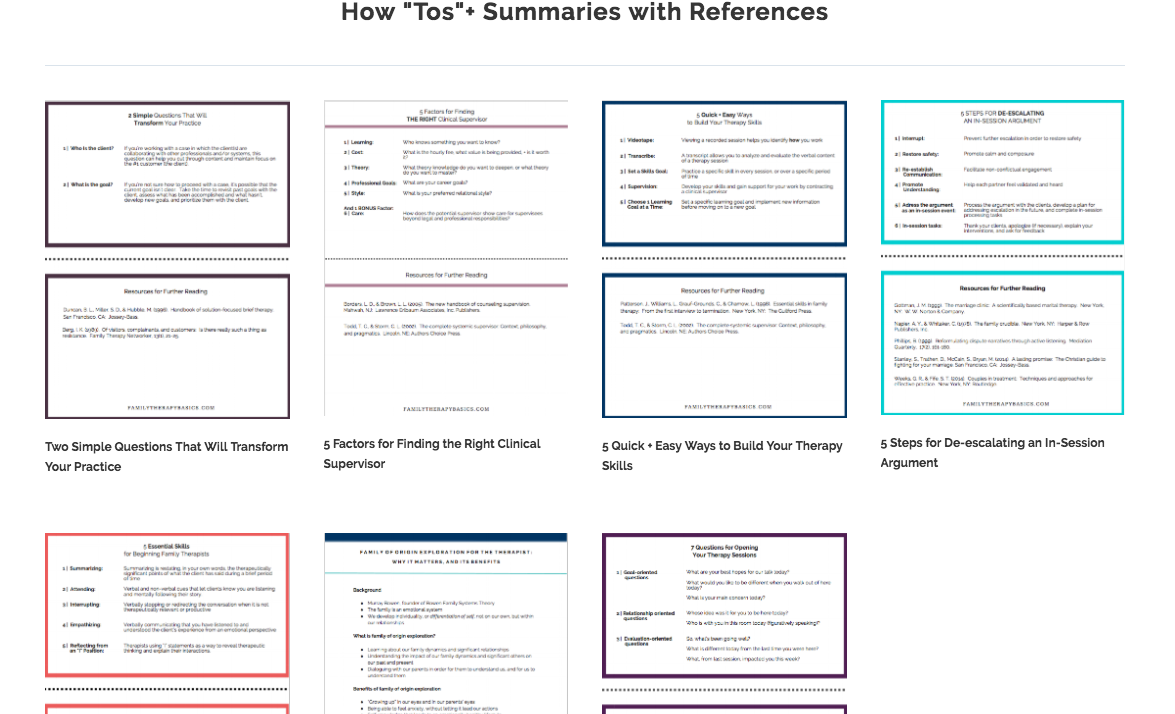 I add resources to the library at least three times per month, and all resources are designed based on feedback from readers and subscribers. Sign up for the library here.
News and Updates
FTB has a brand new Youtube channel!
I am launching a community for therapists in 2017 (very, very soon!). Learn more, and sign up to get notified when the doors open here.
I will have a few openings for the Refreshed Therapist Coaching Program beginning February, 2017. Find out more and submit an inquiry by visiting the coaching page.
A Thank You Note
It's been an honor serving you for these past four months. Thank you for letting me into your therapist life. You inspire me to continue providing information, resources, and community that will simplify your work and support you.
Let's Chat
I invite you to tell me how I can best serve you. Leave a comment below or submit this contact form with your feedback.